Front page - Ascent stage mid-section structure - Back-section structure - Back-section details - Mid-section cabin - Mid-section details - Front-section structure
Forward-section cockpit - Forward section details - Completed ascent stage - Descent stage - Moon base - Completed model
---
INFORMATION on BUILDING the LUNAR MODULE - LM 5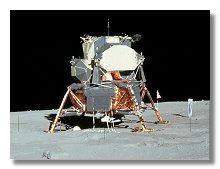 The US Lunar Module has always been to me the ultimate spacecraft. Landing on the Moon was the ultimate space mission of the twentiest century and the current interest in the Constellation project showed that the exploration of the Solar system and the Moon was still very much alive in 2006. Many models have been created of the Lunar Module and I actually built several of these in the past. However some of them were designed at the early stage of the Apollo project like the Revell one and needed many modifications to make them accurate and the scale was no more than 1/48 making it a medium model to display details.
Only Vista Replica made a 1/32 LM but they have been out of business for some years, As of 2006 an other 1/32 LM is in preparation by Accurate models which should be available in the future.
In July 2006, John Ortmann exhibited a digital model of LM-5 in the space-modelers yahoo group. The realism of this model was stunning. Most of the rivets on the ascent stage mid section plates were visible for instance and the color of the model was the most accurate representation of LM-5 I had ever seen. I realized that it was probably possible to build a real model as accurate but at a larger scale that the current 1/48. Furthermore the availability of all photographs taken during the Apollo missions scanned at high resolution in the Apollo Archive web site was an invaluable source of information for reference of the Lunar Module.
I then decided to build a 1/24 Lunar Module to be able to show as many details as possible as well as as the inside cockpit. I choose to depict the historic LM-5 used for the Apollo 11 first lunar landing.
Dimensions of the LM at this scale was originally calculated using 1/48 models (Revell and Monogram) and David Weeks technical drawings. I also resized David Weeks and Paul Fjeld's drawings which also describe the pattern of thermal coatings of the lunar module. Although many sources are available I came to realize that from one drawing to the other or from one model to the other the dimensions slightly changed. A request for information on the Space-Modelers Yahoo group allowed me to get very precise dimensions that I used in making blueprints for my model. I woud like to thank John Ortmann for having provided me with invaluable information on the correct dimensions of the Lunar Module.
By clicking on the chapter title hereunder you will have access to the intricacies of building the various elements of the Apollo 11 LM-5 Lunar Module.

---
Front page - Ascent stage mid-section structure - Back-section structure - Back-section details - Mid-section cabin - Mid-section details - Front-section structure
Forward-section cockpit - Forward section details - Completed ascent stage - Descent stage - Moon base - Completed model