Front page - Ascent stage mid-section structure - Back-section structure - Back-section details - Mid-section cabin - Mid-section details - Front-section structure
Forward-section cockpit - Forward section details - Completed ascent stage - Descent stage - Moon base - Completed model
---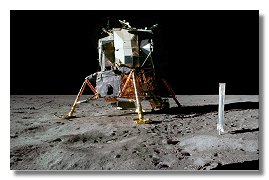 The Completed Model
When I finished the descent stage, the lunar module itself was completed. I started it in December 2006 when I discovered the stunning virtual model made by John Ortmann. It was brilliant and showev an amount of detail never seen before. Furthermore it had the right colors and not the usual silver-aluminium appearance of the ascent stage (only seen with LM-1, 3 and 4 I.e. Apollo 5, 9 and 10). I than decided I should make the same real model with at least the same amount of details. To achieve such a goal I needed two things : a good scale and time. I choose 1/24 to which appeared big enough and would match with other models such as the Vostok and Gemini models. As for the time it took me 4.5 years to make it done.
Before builing the lunar base I wanted to compare both the virtual and the real model. The following slideshow shows both models superimposed, you just need a mouse click to go from one slide to the other. Sadly John Ortmann passed away in June 2009. This model is dedicated to him.

---
The following pictures shows the finished model, some were taken early on the morning of 16 July 2011 and others in the late afternoon. In each case I tried to show the LM shadow as it was on the Moon. The original surroundings, mainly pine trees and swimming pool, were replaced by a more conventional lunar black sky.
---
Serge Gracieux from the Cité de l'Espace in Toulouse built an incredible model of the Soviet Lunar Module LK. Much smaller then the American LM, it was meant to carry only one cosmonaut to the surface of the Moon. Had the the N1/L3 giant Soviet rocket not failed, this is how the Soviet landing site would have appeared after the deployment of the scientific instruments. Both models were built at the same 1/24 scale and are in exhibition at the Cité de l'Espace in Toulouse during summer 2011.
---
Front page - Ascent stage mid-section structure - Back-section structure - Back-section details - Mid-section cabin - Mid-section details - Front-section structure
Forward-section cockpit - Forward section details - Completed ascent stage - Descent stage - Moon base - Completed model